About Us
Mission / Vision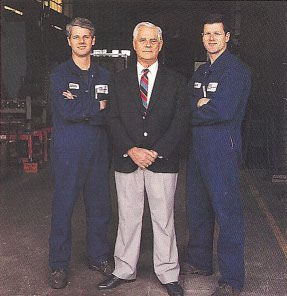 Combining Experience, Technology and Training in Heat Treatment
1950's – Alpha Heat Treatment was formed by Harry Mahoney and Pat Roche to cater for the lack of contract heat treatment services in Melbourne.
1960's – The company grew with the expanding manufacturing industry in the south eastern suburbs. During this period they did both mass production and jobbing work. They were one of the first contract heat treaters in Australia to install a Rotary Hearth furnace, dramatically increasing production rates for small components.
As demand for flame hardening increased, Harry travelled to the USA to investigate flame hardening technologies. As a result Detroit Flame Hardening (Australia) was formed and operates as a licensee to Detroit Flame Hardening USA.
1970's – John Mahoney – B.E. (Metallurgy) R.M.I.T. , Harry's eldest son, joined the company, assisting in technical demands in the heat treatment industry.
A shift from mainly production work to jobbing and specialty work had begun. Two large sealed-quench furnaces and a bogie-hearth furnace were installed to cater for an increasing workload.
1980's – Due to growing demand for quality heat teatment in the tool and die industry they installed a fan-forced gas quench vacuum furnace. This was soon followed by a three-chamber vacuum furnace incorporating both a fan-forced gas quench and an oil quench; the first of its type in Australia, designed and built locally.
Ian Mahoney – B.E. (Materials) Monash, Harry's younger son, joined the company further enhancing the technological base.
By the end of this period the main focus was on heat treatment of a wide range of steels for the tool and die industry, complimented with work for general engineering, manufacturing and mining industries.
1990's – The installation of a gas nitriding facility consisting of two retorts (for large and small components) was added to the now impressive range of heat treatment equipment. The services now offered include capacity in every major heat teatment process demanded by Australian industry. The range of services offered is the largest of any heat treatment company in Australia.
2000's – In this decade we saw a huge transformaion in our work which was predominately comming from the tool and die industry supporting the automotive industry, to now mainly comming from the mining, power generation and agricultural industies. Our wide range of services and speciallty equipment capable of unique heat treatment processes, made us very versitile and adaptible to an ever changing world. Although still based in Melbourne, we saw the majority of our work comming in from all states of Australia and New Zealand.
2010+ – Our company policy guarantees that we will continue to upgrade current heat treatment technologies to keep pace with changing industry demands.
A team commitment will ensure our experienced and qualified staff are ready to assist you with your heat treatment requirements.
View our List of Services and Contact Us for more information.
Vision Statement
Our vision is to be the best and most complete contract heat treatment company under one roof in Australia by 2030, offering innovation and great service in heat treatment.
Mission Statement
We aim to offer the widest range of specialty heat treatment services for complex engineering projects and to play a key role in the manufacturing of parts for all industries in Australia and New Zealand.
Our focus will be to develop innovative processes of heat treatment for small run and unique projects. We will also offer regular and repeat heat treatment services to our customers for their general heat treatment requirements, with great service all under the one roof.